Wyndham Garden Hotel Times Square South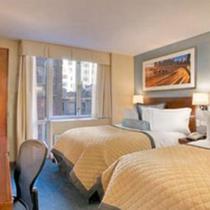 Property Description
Times Square, Madison Square Garden, Rockefeller Center, and the Empire State Building are landmarks that are synonymous with New York City. They are also only a short walk from the newly developed Wyndham Garden Midtown Convention Center Hotel. Other area attractions include; The Jacob Javits Convention Center, Broadway theaters and distinguished shopping havens such as Macys, Saks Fifth Avenue and Lord and Taylor.Whether you are traveling to Manhattan for business or pleasure our 223 smartly designed rooms include; Mark David designed furniture, wireless and wired internet access, 32 inch flat screen TVs, as well as Beyond Room Service and well appointed concierge guest rooms and services.We feature Greenhouse 36 Cafe & Bar, 3,150 feet of flexible meeting space, including our 1,500 square foot Sky Lounge on the 10th floor, a fitness facility and a 24 hour virtual gift shop. Transportation centers such as Penn Station and the Port Authortiy are less than a five minute walk away.
Amenities
AM/FM Alarm Clock
Business Center
Coffee Maker in Room
24 Hour Front Desk
Handicapped Rooms/Facilities
Express Checkout
Free Local Telephone Calls
Golf
Hairdryers Available
Meeting/Banquet Facilities
No Smoking Rooms/Facilities
No Smoking Rooms/Facilities
Free Newspaper
Pets Allowed
Parking
Restaurant
Safe Deposit Box
Shops/Commercial Services
Fitness Center or Spa
Television with Cable
Laundry/Valet Services
Miscellaneous Information
American Dollars is the native currency.
Check in time is 1500
Check out time is 1200
Time Zone is EST
Opened in 2008
224 rooms.
0 suites.
25 floors.
Directions
North on 94ST to Grand Central expy. West to Brooklyn Queens expy-East via exit 4 to I-278 West to I-495 exit 35 to Midtown Tunnel to I 495 West via Exit 35W towards Midtown Tunnel. Keep left at fork in rd. then straight to Queens Midtown tunnel exit. Turn right on E 34TH ST. Turn right onto 8TH AVE. Turn Left onto W 37TH ST. Turn left onto 9TH AVE. Turn left onto W 36TH ST.
New York, NY
LGA - LaGuardia; EWR - Newark Liberty International Airport; JFK - John F. Kennedy International Airport
Restaurant Information
Greenhouse 36 and ERL Cafe
Greenhouse 36, our eclectic organic bistro, features a varied menu including creative tapas offerings, such as Grilled Chorizo, Blackened Garlic Shrimp, Grilled Hanger Steak with Fried Potatoes, Spinach Salad w/ warm Bacon Dressing, Gazpacho Steak Salad, Blackened Catfish Sandwich and many more tantalizing options. Enjoy signature cocktails and courtyard dining in our manicured garden glass enclosed greenhouse or 10th floor Sky Lounge. For those on the go, visit our Eat, Refresh, LiveSM Wyndham Cafe featuring Starbucks(R) drinks and other treats. Enjoy nightly wine tasting in our comfy lobby.
Area Attractions
SOUTH STREET SEAPORT

CATHEDRAL OF SAINT PATRICK
Head southeast on W 36th St toward 8th Ave Turn left at 8th Ave Turn right at W 50th St
ST LUKES ROOSEVELT MEDICAL CENTER

STATUE OF LIBERTY
Head southeast on W 36th St toward 8th Ave Turn left at 8th Ave Turn left at W 37th St Turn left at 9th Ave Turn right at W 34th St Turn left at 12th Ave/RT-9A S/West Side Hwy Turn left at Battery Pl Turn right at State St TAKE FERRY TO LIBERTY ISLAND
TRINITY CHURCH
Head southeast on W 36th St toward 8th Ave Turn right at 7th Ave Turn left at W 14th St Turn right at Broadway
BRYANT PARK
Head southeast on W 36th St toward 8th Ave Turn left at 8th Ave Turn right at W 42nd St
NEW YORK PUBLIC LIBRARY
Head southeast on W 36th St toward 8th Ave Turn left at 8th Ave Turn right at W 42nd St
JAVITS CONVENTION CENTER

NEW YORK UNIVERSITY HOSPITAL
Head southeast on W 36th St toward 8th Ave 2. Turn right at Broadway Turn left at W 30th St Turn left at 1st Ave
CITY HALL
Head southeast on W 36th St toward 8th Ave . Turn right at 7th Ave Turn left at W 14th St Turn right at Broadway
WORLD TRADE CENTER SITE GROUND ZERO
Head southeast on W 36th St toward 8th Ave Turn left at 8th Ave Turn left at W 37th St Turn left at 9th Ave Turn right at W 34th St Turn left at 12th Ave/RT-9A S/West Side Hwy Turn left at Battery Pl Turn left at Greenwich St Continue on Trinity Pl Turn left at Cedar St Turn right at Greenwich St TO 120 LIBERTY ST
PORT AUTHORITY BUS TERMINAL
Head southeast on W 36th St toward 8th Ave . Turn left at 8th Ave
AMERICAN MUSEUM OF NATURAL HISTORY
Head southeast on W 36th St toward 8th Ave Turn left at 8th Ave At Columbus Circle, take the 3rd exit onto Central Park West Turn right at 65th St Turn left at Park Ave
METROPOLITIAN MUSEUM OF ART
Head southeast on W 36th St toward 8th Ave Turn left at 8th Ave At Columbus Circle, take the 3rd exit onto Central Park West Turn right at W 81st St Continue on 79th St Turn right at 5th Ave
MADAME TUSSAUD'S MUSEUM
Head southeast on W 36th St toward 8th Ave
BLOOMINGDALES
Head southeast on W 36th St toward 8th Ave Turn left at 8th Ave At Columbus Circle, take the 2nd exit onto Central Park S Continue on E 59th St PROCEED TO 3RD AVENUE
MACY'S HERALD SQUARE
Head southeast on W 36th St toward 8th Ave Turn right at 7th Ave Turn right at W 33rd St Turn right at 8th Ave Turn right at W 34th St
MUSEUM OF MODERN ART
Head southeast on W 36th St toward 8th Ave Turn left at 8th Ave Turn right at W 56th St Turn right at 5th Ave Turn right at W 53rd St
CENTRAL PARK
Head southeast on W 36th St toward 8th Ave Turn left at 8th Ave Enter Columbus Circle
RADIO CITY MUSIC HALL
Head southeast on W 36th St toward 8th Ave Turn left at 8th Ave Turn right at W 50th St PROCEED TO 6TH AVENUE
ROCKEFELLER CENTER
Head southeast on W 36th St toward 8th Ave Turn left at 8th Ave Turn right at W 40th St Turn left at 6th Ave/Ave of the Americas PROCEED TO 47TH ST
CARNEGIE HALL
Head southeast on W 36th St toward 8th Ave Turn left at 8th Ave Turn right at W 57th St PROCEED TO 7TH AVENUE
THEATER DISTRICT
Head southeast on W 36th St toward 8th Ave Turn left at 8th Ave Turn right at W 44th St PROCEED TO BROADWAY
CHELSEA PIERS
Head southeast on W 36th St toward 8th Ave Turn right at 7th Ave Turn left at W 23rd St PROCEED TO EAST RIVE DRIVE
GRAND CENTRAL STATION
Head southeast on W 36th St toward 8th Ave Turn left at 8th Ave Turn right at W 42nd St Go to Park Avenue
PENN STATION
Head southeast on W 36th St toward 8th Ave, Turn right at 7th Ave, AT 34TH ST
EMPIRE STATE BUILDING
Head southeast on W 36th St toward 8th Ave Turn right at Broadway Turn left at W 32nd St Turn left at Madison Ave Turn left at E 33rd St 350 5RG AVE
MADISON SQUARE GARDEN
Head southeast on W 36th St toward 8th Ave, Turn right at 7th Ave, AT 33RD ST
WAMU THEATRE AND MADISON SQ GARDEN

TIMES SQUARE
Head southeast on W 36th St toward 8th Ave Turn left at 8th Ave Turn right at W 42nd St
DISCOVERY TIMES SQUARE EXPO

INTREPID SEA, AIR AND SPACE MUSEUM

EMBLEM HEALTH