Radisson Hotels & Resorts - New York Hotels
Radisson Lexington Hotel New York

511 LEXINGTON AVENUE
New York
,
NY
10017
The Radisson Lexington Hotel NY is a superior first class hotel featuring Starbucks in the Lobby. Located on Manhattans fashionable east midtown-the heart of New York City. Ideal location for both business and leisure travel. Close to Rockefeller Center, CitiGroup, KPMG, JP Morgan Chase and several fortune 500 company headquarters including Theater District, Shopping areas and attractions. The hotel has a variety of onsite dining options. Newly ren...
see more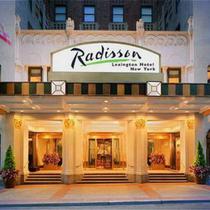 Radisson Martinique on Broadway

49 WEST 32ND STREET
New York
,
NY
10001
The Radisson Martinique Broadway is situated across from Greeley Square, less than 2 blocks from the Empire State Building, and approximately nine miles from Laguardia Airport. Newark Liberty Airport is 12 miles away and John F. Kennedy International Airport is 17 miles from the hotel. Other local attractions include MSG, Times Square, Rockefeller Center, Penn Station, and the Jacob Javits Center. Hotel amenities include onsite spa, concierge, AT...
see more