Grand Hospitality - New York Hotels
Soho Grand Hotel

310 W. Broadway
New York
,
NY
10013
Designed as an homage to the historic Soho district the industrial chic architecture and original artwork provide a unique setting for both the creative professional and the weekend reveler. The lobby is a soaring salon above West Broadway with a classic bottle glass staircase and enormous brick columns. The Grand Bar and Lounge and The Gallery provide a variety of settings for every mood. City...
see more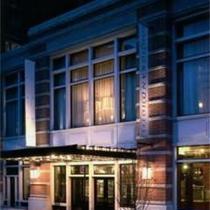 Tribeca Grand Hotel

Two Avenue of the Americas
New York
,
NY
10013
Tribeca Grand Hotel was built in May 2000 was the first major hotel in Manhattans historic Tribeca district also known as the Triangle Below Canal. In keeping with the triangle theme the three sided building encloses a dramatic eight story skylit atrium. The Church Lounge provides a variety of dining options and morphs into a favorite New York nightspot after dark hosting live performances of international electronica acts in a chic relaxed settin...
see more